View or download SCS Math's 2017-2018 Gaudiya Vaishnava Calendar with Ekadasi dates and paran times calculated for Santa Cruz and San Jose according to the local lunar calendar: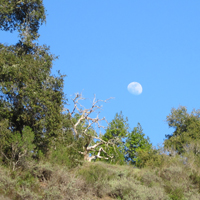 The version shown below of Sri Chaitanya Saraswat Math's Vaishnava calendar has been adjusted to the following standard:
During his 21st world tour, Srila Bhakti Sundar Govinda Dev-Goswami Maharaj instructed that throughout the world devotees will follow the main calendar for all dates except Ekadasis and their associated paran (break fast) times which may be calculated locally according to the lunar calendar. In this way the days of Appearance, Disappearance, and other Pastimes of the Lord and His great devotees will be observed on the actual day they took place in India, rather than according to the technical local calculation of the 'tithi' (lunar day) which would have devotees observing, for example, the Appearance of Mahaprabhu a day before He actually appeared in Nabadwip.
To add these calendars to your own Google Calendar, use the small +Google Calendar icon above.
Scroll down to view the calendar in booklet format. Look below each document for a link that says "Download." On an Apple computer hold "ctrl" button and click on "Download" link. Then select the option "Save link as" to save the file to your computer. On a Windows machine right click for a similar option.