Dear devotees and listeners of Mahabharata,
Please accept my dandavats at your feet. You can find here links to individual chapters of Sri Mahabharata recorded by me in the form of MP3 audio book files. Please feel free to download and distribute them as you feel inspired.
The files range in size from 10 to 20 megabytes each, so be patient after you click on the link and allow time for the file to download.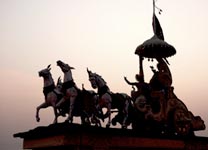 This is an ongoing project and there will be approx 84 chapters total. You can check for more chapter downloads on a weekly basis.
It is my sincere desire that the vaishnava devotees will be pleased by this humble attempt to represent Sri Mahabharata in sound, despite the fact that it has come through a fallen person such as myself. Please excuse any defects and deficiencies in my attempt to serve.
Sarvabhavana das
(To listen to a file just click on the link. To download and save a file to an Apple computer: hold down the "ctrl" button on your keyboard and click on the link. Select "Save link as" and follow instructions. To download and save to a PC, right click on the link for the option to save a file.)
Mahabharata ch 01.mp3 (28 minutes, 13 MB)
Mahabharata ch 02.mp3 (30 minutes, 14 MB)
Mahabharata ch 03.mp3 (21 minutes, 10 MB)
Mahabharata ch 04.mp3 (34 minutes, 16 MB)

Mahabharata ch 05.mp3 (25 minutes, 11 MB)
Mahabharata ch 06.mp3 (29 minutes, 13 MB)

Mahabharata ch 07.mp3 (36 minutes, 17 MB)

Mahabharata ch 08.mp3 (23 minutes, 11 MB)
Mahabharata ch 09.mp3 (23 minutes, 11 MB)
Mahabharata ch 10.mp3 (29 minutes, 14 MB)
Mahabharata ch 11.mp3 (29 minutes, 14 MB)
Mahabharata ch 12.mp3 (32 minutes, 15 MB)

Mahabharata ch 13.mp3 (37 minutes, 17 MB)
Mahabharata ch 14.mp3 (27 minutes, 13 MB)

Mahabharata ch 15.mp3 (22 minutes, 10 MB)
Mahabharata ch 16.mp3 (32 minutes, 15 MB)
Mahabharata ch 17.mp3 (32 minutes, 15 MB)
Mahabharata ch 18.mp3 (23 minutes, 11 MB)
Mahabharata ch 19.mp3 (31 minutes, 14 MB)
Mahabharata ch 20.mp3 (39 minutes, 18 MB)
Mahabharata ch 21.mp3 (23 minutes, 14 MB)
Mahabharata ch 22.mp3 (21 minutes, 10 MB)
Mahabharata ch 23.mp3 (29 minutes, 13 MB)
Mahabharata ch 24.mp3 (46 minutes, 21 MB)
Mahabharata ch 25.mp3 (42 minutes, 19 MB)
Mahabharata ch 26.mp3 (29 minutes, 13 MB)
Mahabharata ch 27.mp3 (24 minutes, 11 MB)
Mahabharata ch 28.mp3 (30 minutes, 13 MB)
Mahabharata ch 29.mp3 (20 minutes, 9 MB)
Mahabharata ch 30.mp3 (37 minutes, 17 MB)
Mahabharata ch 31.mp3 (44 minutes, 20 MB)
Mahabharata ch 32.mp3 (26 minutes, 12 MB)
Mahabharata ch 33.mp3 (26 minutes, 12 MB)
Mahabharata ch 34.mp3 (30 minutes, 14 MB)
Mahabharata ch 35.mp3 (29 minutes, 13 MB)
Mahabharata ch 36.mp3 (41 minutes, 19 MB)
Mahabharata ch 37.mp3 (22 minutes, 10 MB)
Mahabharata ch 38.mp3 (37 minutes, 17 MB)
Mahabharata ch 39.mp3 (27 minutes, 13 MB)
Mahabharata ch 40.mp3 (32 minutes, 15 MB)
Mahabharata ch 41.mp3 (28 minutes, 13 MB)
Mahabharata ch 42.mp3 (23 minutes, 11 MB)
Mahabharata ch 43.mp3 (20 minutes, 9 MB)
Mahabharata ch 44.mp3 (61 minutes, 28 MB)
Mahabharata ch 45.mp3 (25 minutes, 11 MB)
Mahabharata ch 46.mp3 (36 minutes, 17 MB)
Mahabharata ch 47.mp3 (50 minutes, 23 MB)
Mahabharata ch 48.mp3 (44 minutes, 20 MB)
Mahabharata ch 49.mp3 (32 minutes, 15 MB)
Mahabharata ch 50.mp3 (41 minutes, 19 MB)
Mahabharata ch 51.mp3 (22 minutes, 10 MB)
Mahabharata ch 52.mp3 (52 minutes, 24 MB)
Mahabharata ch 53.mp3 (26 minutes, 12 MB)
Mahabharata ch 54.mp3 (23 minutes, 11 MB)
Mahabharata ch 55.mp3 (21 minutes, 10 MB)
Mahabharata ch 56.mp3 (31 minutes, 14 MB)
Mahabharata ch 57.mp3 (24 minutes, 11 MB)

Mahabharata ch 58.mp3 (28 minutes, 13 MB)
Mahabharata ch 59.mp3 (15 minutes, 7 MB)

Mahabharata ch 60.mp3 (27 minutes, 12 MB)

Mahabharata ch 61.mp3 (23 minutes, 11 MB)
Mahabharata ch 62.mp3 (35 minutes, 16 MB)

Mahabharata ch 63.mp3 (40 minutes, 18 MB)

Mahabharata ch 64.mp3 (35 minutes, 16 MB)
Mahabharata ch 65.mp3 (51 minutes, 24 MB)
Mahabharata ch 66.mp3 (39 minutes, 18 MB)
Mahabharata ch 67.mp3 (33 minutes, 15 MB)
Mahabharata ch 68.mp3 (42 minutes, 19 MB)
Mahabharata ch 69.mp3 (38 minutes, 16 MB)
Mahabharata ch 70.mp3 (26 minutes, 12 MB)
Mahabharata ch 71.mp3 (29 minutes, 13 MB)
Mahabharata ch 72.mp3 (35 minutes, 16 MB)
Mahabharata ch 73.mp3 (49 minutes, 22 MB)
Mahabharata ch 74.mp3 (52 minutes, 24 MB)
Mahabharata ch 75.mp3 (45 minutes, 21 MB)
Mahabharata ch 76.mp3 (41 minutes, 19 MB)
Mahabharata ch 77.mp3 (35 minutes, 16 MB)
Mahabharata ch 78.mp3 (55 minutes, 25 MB)
Mahabharata ch 79.mp3 (36 minutes, 16 MB)
Mahabharata ch 80.mp3 (33 minutes, 11 MB)
Mahabharata ch 81.mp3 (18 minutes, 8 MB)
Mahabharata ch 82.mp3 (27 minutes, 12 MB)
Mahabharata ch 83.mp3 (49 minutes, 22 MB)
Mahabharata ch 84 Appendix.mp3 (40 minutes, 18 MB)